About Tiktok Information
Do You Want to Earn Money From TikTok ? Tiktok is the new future. It is a short-reel application that is driving people nuts. Tiktok officially has around 1 billion active users monthly. The shocking fact is that it has been downloaded 3 billion times.
To begin with, it was only considered as an entertainment and fun social media application. Presently, people like Michael Le earn around $20 million from TikTok.This made him the highest-paid TikToker in 2020.
Are you tempted to learn how to earn money from TikTok in Pakistan? Stick with reading till the end to start earning from your favourite app today.
What Is Tiktok?
Tiktok is a renowned short video platform with unique features. It allows you to share visually engaging content. The best part of this app is the format. You can create, share as well as track down videos.
Moreover, people make lip sync, dancing, comedy, acting, and dialogue videos. In addition, you can share your videos with a community using catchy captions. If your video is unique, it will get featured on the #FORYOU page of TikTok.Here is when your fame journey starts!
The Trends Of Using Tiktok?
As we know that the world is now in a digital rush. You prefer fast food to fill your belly instead of long-course meals. Concerning this, presently, short format things get famous in a matter of days.
Tiktok is being used by many bloggers, celebrities, and even brands. People advertise their content, products, and services through TikTok now.
Moreover, Tiktok is a platform that makes your videos viral in a single day. The condition is that your video shall be original and creative. If you stand out from the crowd, you can become famous overnight. This might be unfair at some point, but that is how TikTok rolls!
Tiktok has a frequently variating trend bar. The trending sounds and filters stack you up with the other community members. You need to keep up to date with the day's trends.
From an entertainment application, it is now turning into a social media advertisement platform. Surprisingly you can now earn money from Tiktok as well!
To end your suspense, Let's go through the secrets of earning TikTok money now!
Sign up for rewards ( 20,000 coins)
The first and foremost thing you need to do is to download and create the TikTok account.
Secondly, you need to sign up using any of the three methods. This is how you can log in to a TikTok account.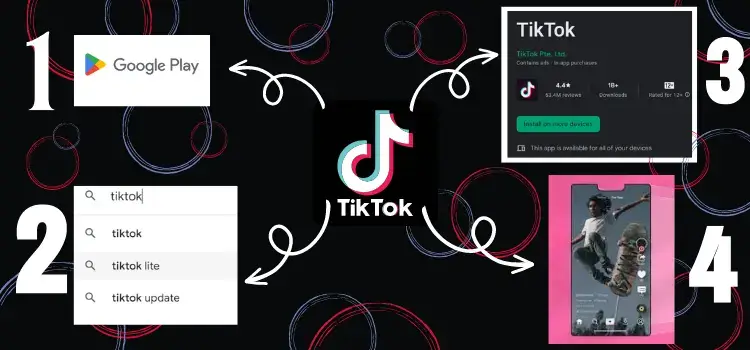 Login through Facebook
When you open the app, you get several sign-up options. If you log in through Facebook, you can connect your TikTok account with other social media accounts. Moreover, you can share your video links on Facebook for more traffic.
Login through a Google account
Another option to sign up for TikTok is your Google account. This is the easiest way to log in because you only need to click once on the option and select the google account. In this way, your Google and TikTok accounts get connected.
Referral code
When you download TikTok on the recommendation of any of your friends, you have to paste the referral code. The referral code gives you 30,000 coins on the spot.
Note: 1000 coins = 1PKR
Invite friends (440,000 coins)
Recently, this method has become popular among people. Tiktok gives an option of inviting friends (referral program). You can send the unique link or referral code to your friends.
Furthermore, your friends need to download the application using your code/link. Whenever your friends download the application, you get an instant reward of PKR 440 each.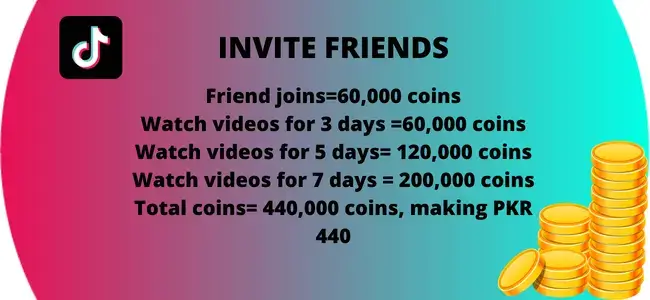 Uploading videos (12,000 coins)
Now comes the time when you use the application for the primary purpose. Suppose you make good entertainment videos. You can choose any genre. You need to film the videos in HD quality. You shall have proper lighting to attract the audience.
Moreover, if you have good editing skills, use them as well. You can use any editing app or TikTok itself. Once you are ready to share your video with the community, you need a checklist.
Catchy thumbnail
Appealing captions
Optimized hashtags
Remember, everything requires effort. Moreover, your investment of time bears you the sweet fruit. You need to upload videos consistently. You can follow the trends or create unique creative content to attract the audience.
In short, the Tiktok monetization requirements include 1K(1000) followers on your account. Once you reach the limit, you earn 12,000 coins for each upload. From this point, you start getting organic followers and money side by side.
To sum up, follow these rules to earn money from TikTok in Pakistan.
Unique and authentic content.
Upload videos according to the community guidelines
Keep your audience under your focus.
Try to coincide with the trends as much as you can.
Creative and original videos.
Watch Ads And Videos(8800 coins)
Who doesn't like getting paid for watching videos and ads? Imagine sitting comfortably on the couch and scrolling reels to add money to your wallet. Yes, you heard it right! You can earn money watching TikTok videos only.
In order to benefit from this feature, you need to land on the TikTok reward page. You need to follow the TikTok community instructions. For example, there is a specified period in which you need to watch a certain number of videos to earn money.
In addition to this, there are certain Tiktok earning criteria on the ad platform.
Like other social media platforms like face and Instagram ads, you can also make money from TikTok ads. You can post worthy and appealing ads to earn money on every product purchase from TikTok ads. Moreover, You can run marketing campaigns with allocated budgets.
Besides that, businesses are now choosing TikTok as their ultimate advertisement platform to flip the lid. Investing your money in market-trending platforms is better than sticking to the old methods. Tiktok is an application made in the shade. Take as much benefit from it as you can!
Cross promotions
Cross promotions are when you use a platform for advertising and promoting someone's podcast and services. In order to avail of this feature, you need to know the secrets to earn money from TikTok in Pakistan.
To begin with, brands need content creators or influencers to promote their products. This concept comes from brands choosing renowned celebrities to promote their products and services. Additionally, this is similar to television advertisements. Similarly, you can cross-promote for brands using a single sponsor post or a complete series.
As TikTok is in trend and so are the TikTokers, brands are paying them to promote their products through video content. You need to create engaging and unique content to bring in more sales to the business.
Contrary to this, you can cross-promote accounts and videos on other social media channels. Cross-promotion can be of any product, service, channel, or video you get paid in return.
Moreover, this is very similar to creator collaborations. Brands pay content creators for organic promotion. It has been estimated that creator-made brand content has up to 83% higher engagement rates. Similarly, as a creator, you cross-promote products by creating content to increase audience reach.
Do you know? Charli D' Amelio is the biggest TikTok influencer having almost 148 million followers. Similarly, you can also earn money as a tiktok influencer.
Initially, this method is feasible for you when you have many followers. Moreover, when you are well-known in the TikTok community, you can also become a well-renowned influencer. Furthermore, some people have shifted from being Instagram influencers to TikTok influencers.
Similarly cross promotions, an influencer deals with several brands to promote their products or services through content. You need more followers for top brands to collaborate with you.
Furthermore, as an influencer, you can earn money from TikTok in Pakistan. If people follow you well, they will try the products you promote. Moreover, in Pakistan, the more you work, the more you get paid by brands. However, an average of 40-50K monthly can be earned as a Pakistani Tiktok influencer.
E-commerce business
The traditional business model has transformed into an E-business model since covid passed. People have started feeling comfortable with online shopping as compared to conventional shopping.
Although several e-commerce platforms are specially designed for E-business. For example, Amazon, Alibaba, Daraz, and the list. Similarly, TikTok is the new emerging platform for e-commerce business. It is a free-of-cost display shop for your business. Moreover, around 35% of people bought products from the TikTok platform.
Moreover, it would be best to have a good number of followers and a higher engagement rate to promote your business. Additionally, you can sell several products like merchandise, organic products, or whatever business you want to start.
Creativity, needs, and trends together build a solid business base! Besides that, you can create unique video content to promote your business. For instance, you can create a skit, tutorial, or unboxing video. All that is trending will bring in money to your business. You must add affiliate links to your products to become an efficient selling business.
What Is Creator's Next Program?
Tiktok is launching the new creator's next program for its qualified content creators. It will allow the users to avail all the features of the platform. Moreover, you can gain followers and improve your earnings from the app.
Moreover, people use social media and the TikTok platform to run their businesses successfully. This program is similar to the creator's fund program with enhanced features.
Additionally, Tiktok has improved its live stream features to increase user engagement on the platform. The program is planning to give certain features to the creators. Just like:
Creator fund
Creator marketplace
Live gifts
Creator next program will make all TikTok monetization features readily available for tiktok users. However, you need to have 10,000 followers and 100,000 views. Moreover, Your account shall be according to the community guidelines.
Note: This is only available for people residing in UK, USA, France, Germany, Spain, and Italy.
Conclusion
To wrap up the discussion, people misunderstand that social media earnings are just a piece of cake. Stop and warn yourself right here! Social media is an easy-to-reach platform to earn money, but it requires extra effort for success.
If you wish to earn a good amount of money from trending platforms like TikTok, you need to know the magic tricks. It provides a kickstart, and you must work hard for fame and money.
Consequently, it is an entertainment platform for you to relax. Moreover, you can earn money using different features, and you can make money by scrolling the app as well.
Read More : How To Earn Money From Fiverr ,Freelancers of Pakistan
So what are you waiting for? Start using TikTok to earn money from home now!
Did you ever earn money using any of the above methods? Comment down below.
Frequently Asked Questions (FAQ)
How to go live on tiktok?
When your TikTok account displays ads and has a good number of views, likes, and at least 1000 followers, your account gets registered for monetization. You get paid for video uploads, and collaborators reach you for paid promotions.

How to go viral on tiktok?
Make top-performing videos with CTA and subtitles. You need to keep up with the trends(audio and video) and make relevant videos. Moreover, use the green screen effect, trending hashtags, and subtitles in your videos.
What Is TikTok earning calculator?
The TikTok earning calculator on the influencer marketing hub helps you calculate your TikTok account earnings. Moreover, as an influencer, you can calculate your payments based on your engagement and followers. This does not work for the Chinese TikTok.

How to withdraw money from TikTok?
Open tiktok>> Me section>>Wallet>>Click on cash withdrawal>>Select withdraw>>Add a new withdrawal method>>Choose jazz cash or easy paisa>>Add details and confirm>> Withdraw.
Note: The least amount is Rs. 50 that you can withdraw.