The gaming world is receiving an overwhelming response from the audience. People are going nuts after online multiplayer games. Moreover, the networking and competitive spirit that these games give are endless.
To begin with, the noob-level mobile multiplayer game PUBG has spread worldwide.PUBG has been downloaded over 1.3 Billion times now. This game has induced a lot of competitive spirits among the youth significantly.
About PUBG And UC
As we all know, PUBG is a multiplayer shooting game. It has a battleground where around 100 players come in to fight, and the last survivor wins a chicken dinner. Apart from this, people have now shifted to emulators to play PUBG.
Additionally, PUBG now makes multiple demands to avail of paid and premium features to level up your game. In order to make your tournament an ultimate success, you must buy UC. Moreover, If you want good skins and outfits, you must get UC(Unknown Cash) within your game. It is a game currency that helps you purchase premium items.
What Is Midasbuy Pakistan UC?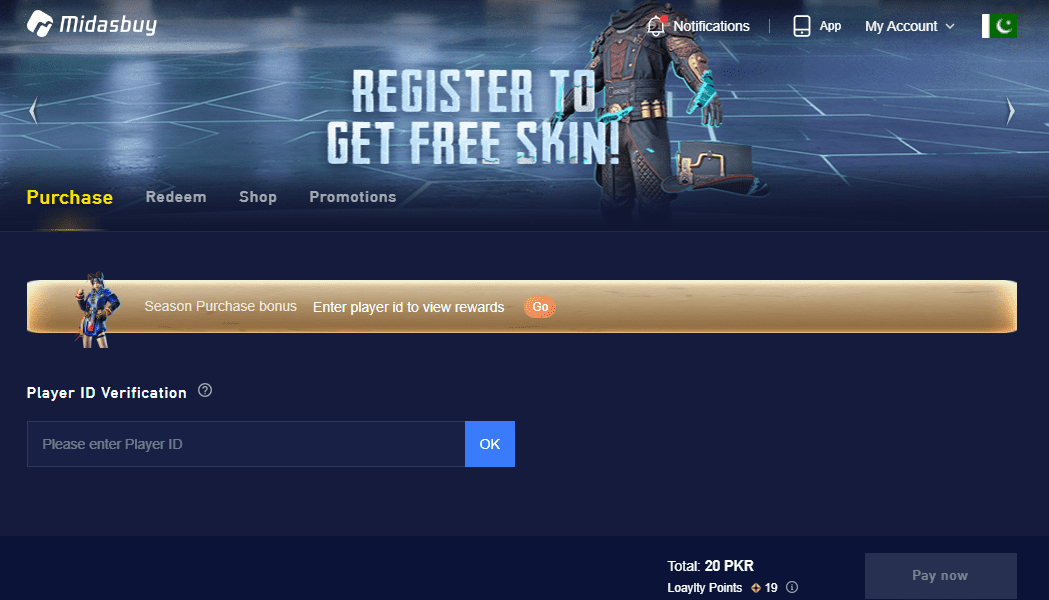 In order to buy game credits at reasonable rates, you can choose the midasbuy Pakistan uc portal. Multiple ways exist, but it offers credits for the most popular video games. Moreover, its primary concern is the in-game purchases in PUBG or PUBG Mobile. In addition, midasbuy Pakistan gives special deals and offers to provide you with UC at cheaper rates. It is official and avoids ID bans in any case.
What Are Pubg Midasbuy Pakistan UC Rates?
Although there is no fixed official UC rate, it changes the variance of International currency rates, especially dollar rates. However, 60 UC costs $0.99, which is not a fixed rate. You can check it on Google or avail the deals and offers provided by third-party sellers. If you buy more than 300 UC, you also get some free UC.
How To Buy Pubg UC?
There are multiple ways to buy Pubg UC for leveling up your game. Moreover, you can use methods such as Easy Paisa, Jazzcash, Zong, and other networks.
Buy Pubg UC With Midasbuy Pakistan Easypaisa
To begin with, here are a few steps you need to follow for PUBG UC:
Go to the official midasbuy Pakistan portal/website. It is a PUBG-certified official website to buy UC for in-game purchases in PUBG.
If you have an account, sign in or create a new account first. You can also sign in through Facebook.
Select 'Pakistan' from the flag icon
Press the 'Go' button after that.
Click on the top-up button for UC.
Enter your ID and add your payment method as midasbuy Pakistan Easypaisa.
You can now click on 'Purchase' to get your desired UC.
This takes you to a new page to add your easy paisa mobile number and verify.
Approve, and you will receive the UC in your game account successfully.
Note: If you add the wrong game ID, you will not get your money refunded.
Pubg UC From Midasbuy Pakistan Jazzcash
Similar to the EasyPaisa UC midasbuy in Pakistan, you can also add up UC following the similar steps mentioned above. You should have an authentic Jazzcash account. Moreover, the only difference is you have to select midasbuy Pakistan jazzcash as your payment method on the midasbuy Pakistan portal. However, the only condition for microfinance accounts is that you should have funds to buy UC for your PUBG account successfully.
UC Purchase From Midasbuy Pakistan Zong And Networks
You can use your network balance to buy UC for your in-game purchases if you do not have a microfinance account. There are a few steps you need to follow in this case.
Open the Midasbuy Pakistan website.
You can get offers for first-time Card entries for double UC, which you can avail of.
You must add up credit to your mobile phone equal to the UC you need.
Once your account has a balance, you must go to the midasbuy portal and choose the product.
When selecting the payment method, you can choose your sim network, such as midasbuy Pakistan zong, and purchase the UC.
You can get UC in your game ID when you verify your mobile number alongside verification.
Note: This offer is sometimes unavailable on the midasbuy portal.
Other Methods To Buy Pubg UC
If you have no other option, the best and most accurate method to purchase UC for PUBG games is through credit/prepaid or debit card. Follow these steps to buy UC from the card:
Open the midasbuy Pakistan portal.
Sign in or create an account.
First, you have to call your bank helpline and get your international transactions switched on.
Select the product and add a payment method from the available card options.
When you select an option you will see an interface.
Add your card number, expiry date, security code, and first and last name.
Moving on, you have to add an email, and after you add all details, you can proceed to checkout.
After some time, your purchase becomes successful when you receive an email in the game.
Conclusion
To sum up, PUBG is competing to great peaks as of now. Moreover, you must invest in the UC purchase if you are a passionate gamer. Additionally, you can quickly get premium features, skins, and other perks in the game. Moreover, choose the best method for you and enjoy PUBG gaming to the fullest.