Do You want to Earn Money By Typing without investment ? Are you unaware that typists earn up to $32 143 annually? These figures might have hit you hard in your brain. In today's world, even kids as young as 4 years know how to type.
However, if you are an adult, you keep texting your friends and loved ones the whole day. Contrarily, you make assignments and attempt online quizzes by typing on your documents.
Do you know? If you type fast on your phone keypad, you can do the same on your desktop keyboard. Try it once now!
Undoubtedly this is a fact that typing practice improves your speed to a great extent. Now how do we cash this raw talent? If you are a student, you have lesser free time. On the other hand, if you work 9-5, you cannot commit to longer-hour tasks to earn money!
Let's solve the dilemma and learn how to earn money online in Pakistan by typing without investment.
What Is Online Typing?
As is evident by the name that online tying is an essential skill to write on your laptop /phone by typing characters. As the world shifted to remote work after the pandemic, people with no other skills preferred online typing.
Additionally, you can begin online typing using a device and an internet connection. From this point onwards, you'll be able to analyze what benefits online typing has for you. As a typist, you fulfill typing-related tasks for companies and sellers. You either deliver the work as a hard copy or in electronic form.
Moreover, you must work efficiently and pinpoint accuracy in the typist role. However, you must maintain confidentiality with the sensitive information the client provides you with. Online typing is a success if you complete documentation, reports, and data encoding in lesser time!
Importance Of Online Typing Jobs
As far as online typing jobs are concerned, there is a misconception that it includes only typing. However, there are plenty of varieties in typing jobs as well. Whether you are qualified or not, you have many options to choose from.
Moreover, online typing jobs include working for various companies, agencies, and sellers. You either have to type documents, e-books, company content, etc. However, if you have previous experience in typing, you get an edge over others.
Additionally, students gain the maximum advantage from online typing jobs. This is because they can earn a side income alongside their studies. You can easily earn good money at home through real typing jobs that are updated daily.
Moreover, you can work in a niche that suits your specific abilities and needs. As a typist, your jobs vary according to the industry or company. Typing jobs allow you to work at flexible hours of the day to make yourself a good earning.
No matter where you belong, online typing jobs are Free and easy to digest. You only need patience, consistency, basic typing skills, a device, the internet, a bank account, willpower, and speed to prosper in this field. This way is the quickest way for students and housemakers to earn money.
What Are The Basic Skills To Get Typing Jobs?
You need to set right a few things to get more typing jobs. To begin with, you need to have strong typing skills. This is easy. You can build it with practice and consistency. In this industry, you must prove competent for a company's/client's typist job.
Furthermore, the basic requirements, as a typist, you should have good cross-promotion skills for your growth. It would be best if you reached out to clients with flexible rate packages to get more and more work. Moreover, networking and advertising will help you in getting the best typing jobs available.
Typist Duties And Requirements
Computer-generated reports and documents.
Track records of digital documents.
Proficient comprehension, reading, and typing skills.
Efficient in MS Office.
Best time management skills.
Competent communication skills.
How To Test Your Typing Speed?
If you search for 'Typing Speed Tester' on google, you will find plenty of testers. They determine your speed according to minutes. Moreover, a paragraph is given for you to write it as fast as possible. In this way, you can know about your potential.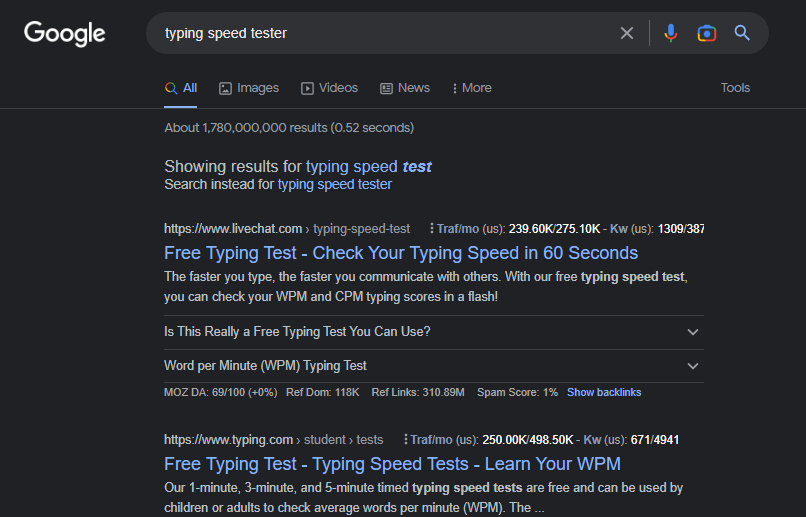 Moreover, these testers also help you learn correct finger placements for better typing. Additionally, you can quickly determine your Word Per Minute(WPM) and improve accordingly.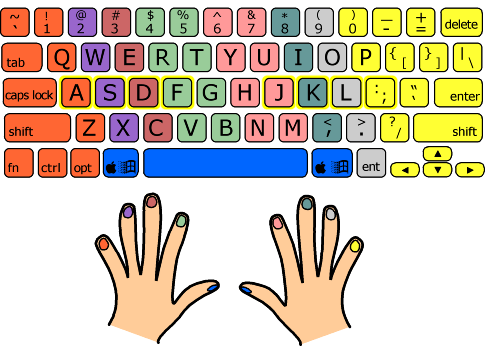 If you want to be successful in the tying industry, you should be able to type 65-70 words per minute or more. However, if you are a beginner, you can pace your speed from 40 Words per minute.
Initially, you are considered an average typist if you have a typing speed of fewer than 35 words per minute. However, anything beyond 60 words per minute is considered excellent for adults.
Types Of Typing Jobs
This is a high-paying, easy typing job online in Pakistan. Moreover, you have to type quickly while listening to the audio/video files. The essential requirement is quick typing speed with minimal errors.
However, this might be easy but challenging. A one-hour file can take 4-5 hours to complete transcription. Moreover, a daily 100-minute video/audio file is enough for you to transcribe. Conclusively the lowest rate of a transcriber is $11 per hour, and the highest earning is $30 per hour.
Types Of Transcription Jobs
There are numerous types of transcription jobs available worldwide. Some of them are
General transcription (Best For Beginners)
Legal transcription (Highly demanded)
Medical transcription (Highly Demanded)
Financial transcription
Academic transcription
Interview transcription
Conference transcription
Undoubtedly, you can choose your niche according to your interests.
Micro jobs will work best for you if you are interested in short-term tasks. You get m, multiple functions in which you require no special technical skills. Moreover, these work best for students and people who look for simple and easy tasks.
Additionally, you can bid on projects or display your skills on different platforms to get the jobs. Other types of tasks include
Typing PDF files into Word
Email writing and newsletter writing
Social media page management
Designing PowerPoint slides
Short personal tasks
If you are interested in exploring other languages, you can opt for a translator job. Moreover, you have to translate tests from one language into another. However, you must maintain a text's structure, style, tone, etc.
Additionally, it would be best to have CAT (computer-assisted tools). With these tools, you build word banks of translating words, phrases, and sentences. Moreover, the requirements for a translator are to understand both languages, their slang, culture, colloquial terms, etc.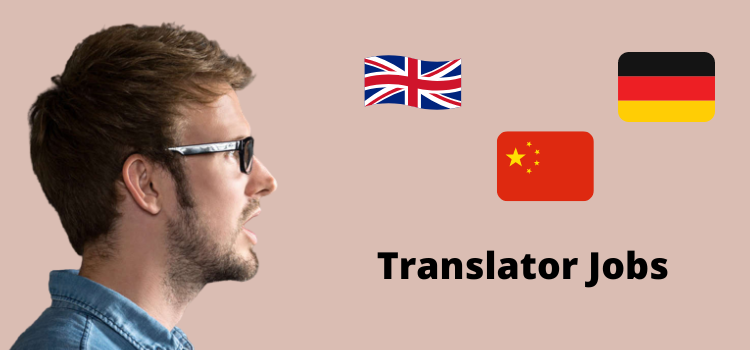 Undoubtedly it would be best if you were not under the misconception that you require no skills in this job. Firstly you should have native-like proficiency in at least two languages of your choice to qualify as a translator.
Although translator jobs are among the best online typing jobs for students in Pakistan that make money at home, they need special language learning skills to prosper in the field.
Note: The highest-paying languages for translators are English, Mandarin, Arabic, German, etc.
Types Of Translators
Medical translators
Literary translators
Legal translators
Advertisement/copy translators
Tech translators
Copy typing is a skill that requires copying handwritten or printed documents. Contrarily, you either need better-quality complex formats or nondigital formats to type.
Moreover, when people find documents that are outdated but are noneditable, that is where copy typists are hired. You have to keep the format quite similar to the provided copy.
Additionally, a copywriter copies the online content, documents, and materials for websites and agencies. Primarily the demand is for a word document or editable formats. Furthermore, these copies are expanded according to the requirements later on.
Companies conduct surveys for feedback from clients on several products and services. These surveys help the companies know their strengths and area of growth.
Moreover, you can register for survey companies to get paid for helping organizations get feedback. Furthermore, every company has a different rate per survey. It can range between $0.45 -$20.However, you do not require technical expertise or experience to do this task.
Initially, a captcha is a verification test conducted to avoid bots. This makes websites safe from spammers and hackers—this is a 24-hour job for additional income. Moreover, you get paid $1 weekly for typing/solving 1000 captcha. You do not require skills and qualifications to enter this job.
However, you require admin access and IDs through registration on several verified websites to get paid for solving the captcha. You can work around 2-3 hours per day for captcha entry jobs. You should have good knowledge about different types of captcha only.
Types Of Captcha
Mathematical
3D
ReCaptcha
Text-based captcha
Image-based captcha
Writing comes under the umbrella of online typing obs. However, it is somewhat technical and different from traditional typing jobs. You need to be proficient in grammar as well as you should be a creative content writer.
Moreover, this skill requires time and effort to learn. As a freelance writer, you must write materials for books, websites, newspapers, magazines, etc. Additionally, you have to complete given assignments by clients as a writer. Moreover, there is a range of niches and industries that you can choose from. There are plenty of writing jobs. Some are
Blog writing
Copywriting
SEO writing
Nonfiction writing
Technical writing
Ghostwriting
Create writing
Business writing
Social media writing
Contrarily editing and proofreading is other typing job. It requires comprehensive skills in reading and writing. Additionally, you have to fix a written text's mistakes, grammar, structure, and punctuation as an editor and proofreader.
Moreover, you have to review articles, scripts, books, and other written texts. All of the editing and proofreading depend upon the publisher's requirements. This is an in-demand freelance job at present.
The data entry tasks also fall under online tying jobs. Moreover, you have to input information into online databases. You receive several information files from which you must extract and enter data into the database.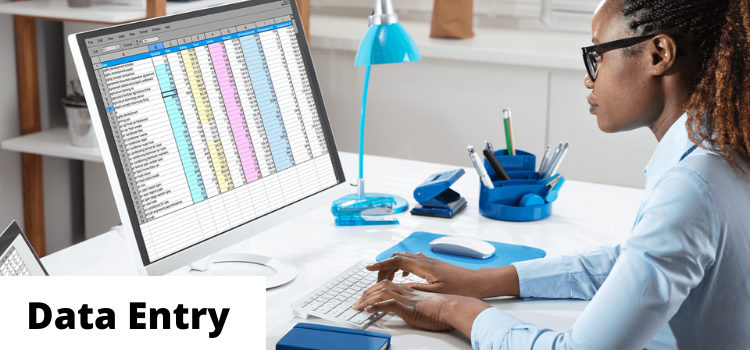 Additionally, you must be efficient and accurate as a data entry clerk. You must verify, enter and maintain new and updated data information through software techniques and procedures.
Best Websites For Typing Jobs
A list of websites where you can earn money online in Pakistan by typing without investment is
Do Online Typing Jobs Pay Real Money?
People are earning salaries as high as $63,000 annually. Many people doubt the fact that online typing jobs might be a scam. However, online typing jobs are free and pay you to perform various tasks. Undoubtedly there are frauds and cons as well in this typing job industry.
For this reason, you must be very careful about the right websites. You should research well and verify a website before investing your time and energy into it. To sum up, the best thing is to either check the website and reviews.
Contrarily the best thing is to join a freelance platform. You will get paid for your tasks. There is a lesser chance of getting scammed on renowned freelance platforms.
How Much Money Can I Earn Through Typing?
There is a variance in the payments for online typing jobs concerning the regions. You can earn up to $11- $30 per hour. Furthermore, the bottom to top 10% of typists makes up to $32,143- $48,000.Moreover, according to a recent analysis, the average annual payment of a typist is $46,413.
How To Withdraw Money From Websites?
You can withdraw money from several standard methods. All websites have different withdrawal methods. Additionally, within Pakistan, there are limited payment withdrawal methods. However, Payoneer, bank transfer, jazz cash, and easy paisa are used mainly by buyers.
For detailed instructions, read through freelancer payment methods and PayPal Alternatives.
Pros And Cons Of Typing Jobs
There are several benefits and drawbacks of Online Typing Jobs
Pros
Flexible working hours
Independence
Earning money without investment
Beneficial for students' and housemakers' side income
No qualification or technical skills required
Handsome hourly rate
Best industry for beginners
Cons
Monotonous tasks
Scams and frauds can be expected
Hard to find legit companies
A serene environment is required without distractions
Tiresome
Slow typers cannot get highly paid
Conclusion
In a nutshell, the present world is highly competitive in earning. For that reason, you have to make additional or side income whether you are a student, housemaker, or office worker.
Moreover, if you are looking for easy and quick methods, you can earn money online in Pakistan by typing without investment. You can begin your freelance career by typing for clients if you have no skills. Start practicing and become a pro typist today to serve the clients and earn easy online money!
Drop down your queries in the comments down below!
Read More
12 ways to make money without investment
Frequently Asked Questions (FAQ)