Did you land for $1 million? Yes, you landed right! According to ZipRecruiter, the most straightforward data entry skills can make you $83,500 annually. However, the ambiguity is that many people still sit back because they need more specialized skills.
Undoubtedly if you are good at the keyboard and can handle deadlines smoothly, data entry is the right choice for you! You have unlimited options in this particular career.
Here is the point when you need to know that you can earn enough money effortlessly from online data entry jobs in Pakistan at home. Let's learn more about online data entry jobs in a flash!
What Is Data Entry?
To begin with, data entry is the electronic process of transcribing and entering information. Moreover, it also includes the updation of previously available records of the database. However, there are plenty of tasks affiliated with data entry.
Additionally, you use input devices and computer processing programs and software to input information. Most probably, data entry is carried out electronically. Contrarily it can have paper documentation work as well.
Moreover, online data entry jobs have four common structures. For instance, physical office jobs, full-time and part-time online jobs, and freelance positions. The best thing about it is that even if you lack highly technical skills and qualifications, you can work remotely.
Furthermore, you can earn enough money to complement your earning potential. Additionally, there are plenty of occupations behind single-term data entry. Every employer has different criteria and responsibilities for hiring a data entry person.
Types Of Data Entry
In order to make this term simpler, the categorization below is not absolute, but it will clarify your concepts better.
Online Vs. Offline Data Entry
These types are self-explanatory. Some data entry services require an internet connection for data processing, and some do not. That is the clear difference between online and offline data entry.
In addition, online data entry is more important than offline data entry. The first thing is that it has a higher salary value than offline data entry. You can earn up to $21 per hour.
However, you must process, update, input, or edit the online database in online data entry. Sometimes you have to enter product information on online websites, fill out online forms, and update Customer Relation management(CRMs).
On the other hand, offline data entry includes:
Filling offline forms.
Transferring processed files to databases.
Digitizing paper data into electronic format.
You can earn around $14 per hour in it.
Data Cleansing
You have to organize the database information accurately and up to date. During data cleansing, you must keep the records scrubbed from duplicate and wrong information.
Tasks:
update CRM and database
Modify the information and remove duplication
correct the data from errors.
Data Conversion
This is the process of converting data from one form into another. It can either be manual or software base. Moreover, you have to perform simple duties of this type.
Tasks:
Data typing
Transcriptions
Copy/paste the information
Photo Editing
Enter photo format data.
Data Processing
Within data processing, you have to collect, modify, filter, and edit the data for specific purposes. Most of the tasks of this type are related to actual data and information.
Tasks:
Data capturing
Accounts and figures entry
Database creation and extraction
photo/product editing
Data Classification
The process of data organization on particular characteristics is called data classification. It is helpful for AI software to access filtered data when needed quickly.
Tasks
Classify and sort data
Data indexing and tagging
Product data entry
How Do I Start A Data Entry Job?
A job can only be aced with a skillset in this competitive world. Although having a lower qualification is bearable because skills matter more. Within data entry, things are simple but challenging at the same time.
Initially, you need basic skills to get the right position and money in this field. Some of them are
Fast Typing Speed
Knowledge of basic data entry software
Efficient verbal and written communication
Ability to identify peculiarities and details
Time management
Basic research and data structure knowledge
Teamwork
Top 15 Online Data Entry Jobs In Pakistan
Undoubtedly the best platform for all types of freelance jobs is Fiverr. As far as data entry jobs are concerned, there are plenty of scams on the internet. In order to secure yourself from losing money and effort, choose Fiverr for the best possible experience.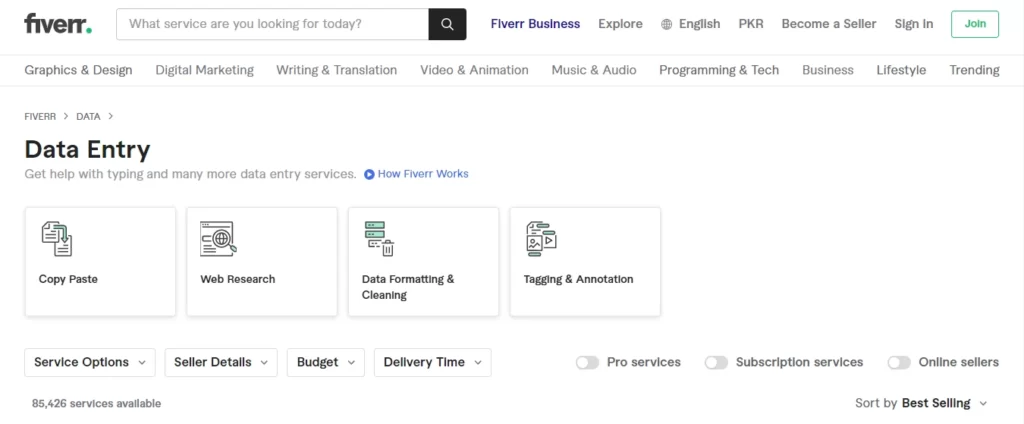 Additionally, you must make an account on Fiverr, which is free to earn money from online data entry. Create a competitive gig, add essential information as required, and set your charges accordingly to make money today.
Another excellent platform for the best available data entry online jobs in Pakistan is Upwork. There are 5000+ opportunities for data entry jobs on Upwork. There is an opportunity for you to create a free account and avoid any fraud.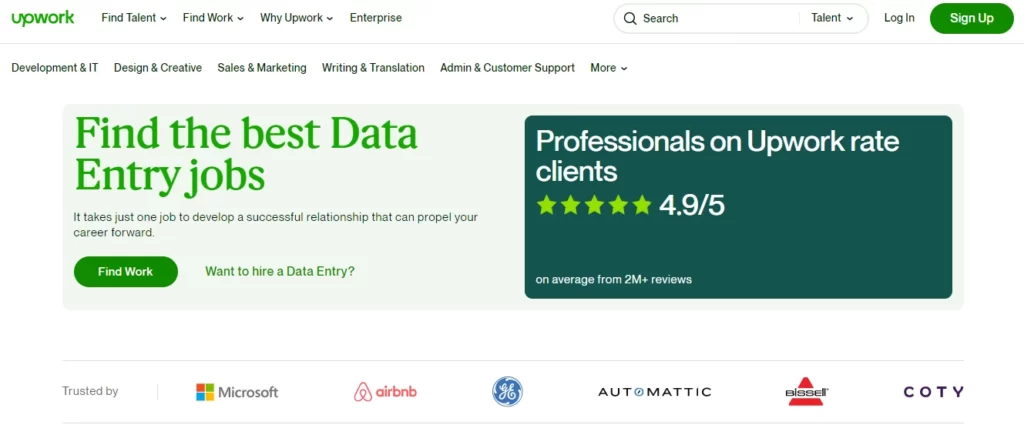 As soon as your account is set up, you must browse job descriptions and apply for the positions through the 'find work' tab according to your skill set. It is a 100% secure website to land part-time or full-time jobs.
Indeed has almost 250 million monthly visitors. Certainly is the best job portal to earn money through online data entry jobs in Pakistan without investment. You can type keywords for jobs based on location, salary, and companies to find the best match for your interests and abilities.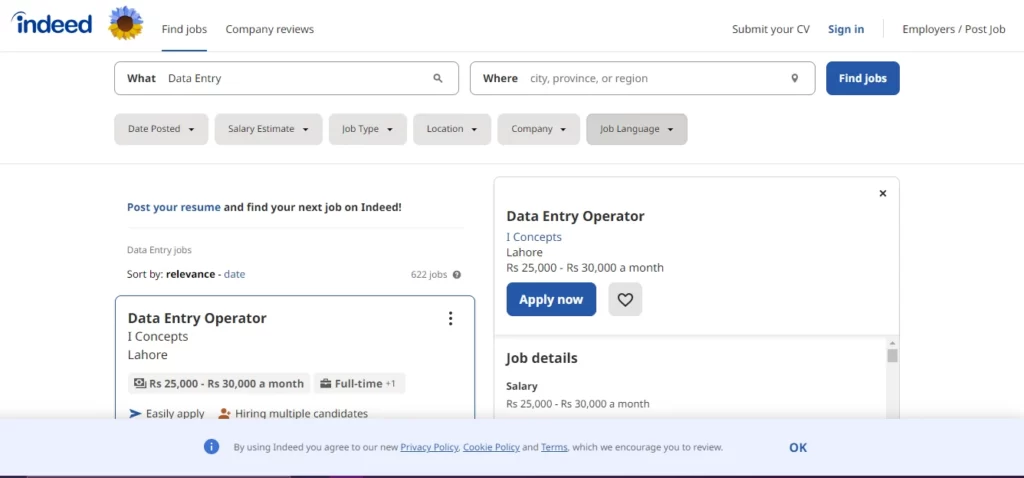 Moreover, you can find highly paid data entry jobs on indeed. It follows the same process of making the account live with a resume. It sends you job notifications for new postings. Conclusively, It is reliable and worth it.
Another dependable website for home-based data entry jobs in Pakistan is flexjobs. You can apply for positions related to your data entry skills. This website has been designed for various industry data entry specialists.
If your resume gets selected by employers, you will be automatically contacted for an interview. Moreover, you can choose a job according to your experience and rates.
If you are looking for ways to earn extra cash from data entry jobs online in Pakistan, Rev is your platform of choice. It provides you with several opportunities for online data entry jobs.
Moreover, you can apply for various positions and areas, but transcription is the main area covered by this website—for example, transcription, live captions, subtitles, online forms, etc.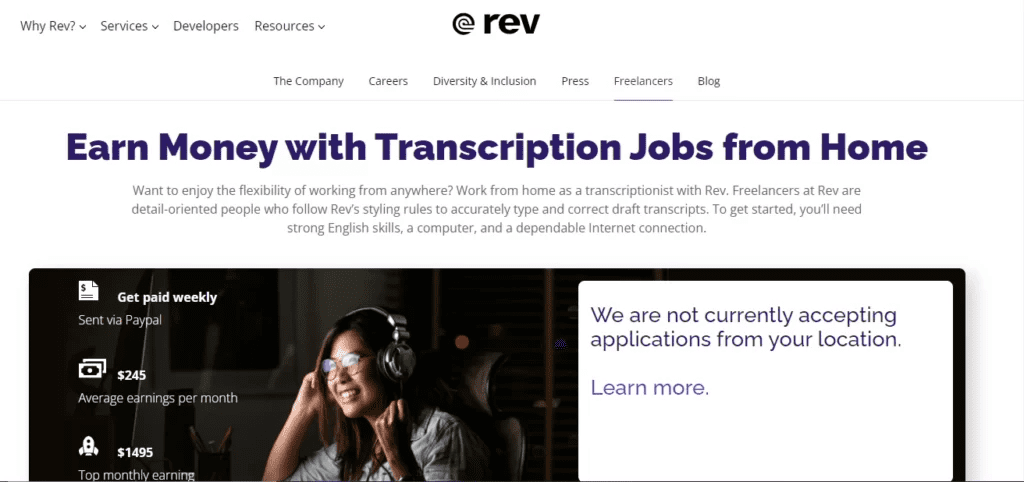 This website offers a high level of flexibility in working hours. Moreover, you get paid weekly for your tasks. This is the best platform for online jobs in Pakistan for students. You must create a free account and browse the specific jobs to apply for.
For payment methods, read PayPal alternatives in Pakistan.
If you are an experienced data entry specialist, lion bridge is the right platform to connect experts and companies. Initially, you need to create a free account and browse through data entry jobs of different types.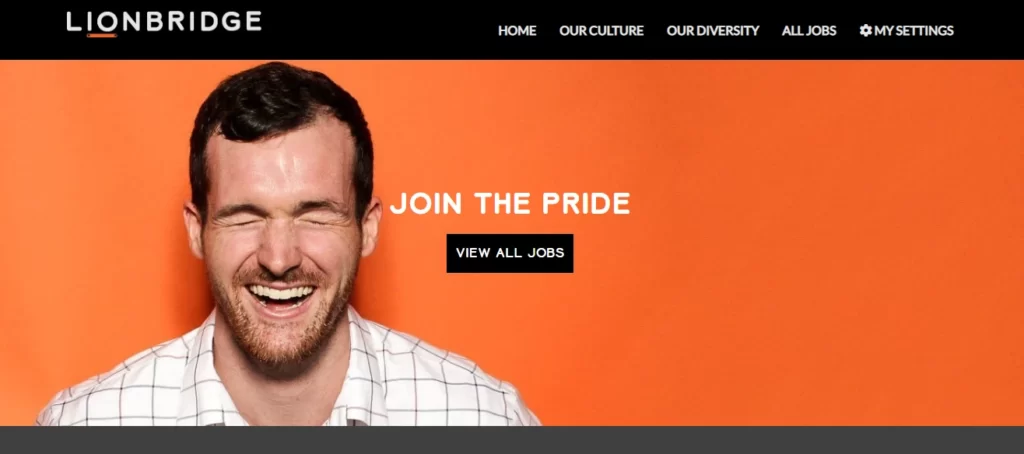 You can land perfect data entry jobs through a free account and innovative profile. Moreover, click the 'join us' button and fill out an application form. You can also set up notifications for new job opportunities. There are online translation and annotation jobs etc., available on the portal.
If you wish to earn a stable income monthly, you can work as a data entry professional on scribie. Your responsibilities include error-free transcriptions and communication at first.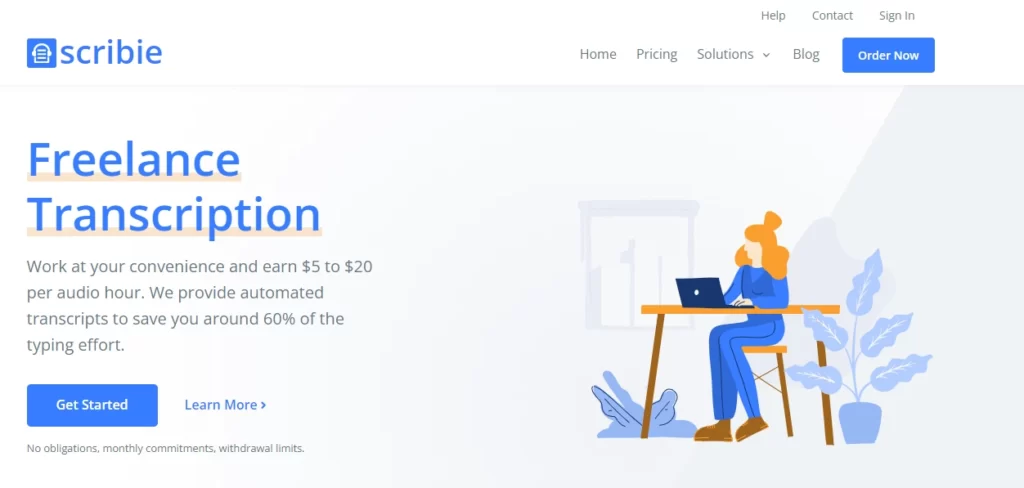 In order to start your journey, you must create an account and click on the 'join us' button. After filling out an application form, you must submit it, and then you will receive a verification email to register.
Clickworker is the best platform for contract-based data entry services. It also has Android and ios applications available for your ease. As a common practice, you must create an account to apply for jobs.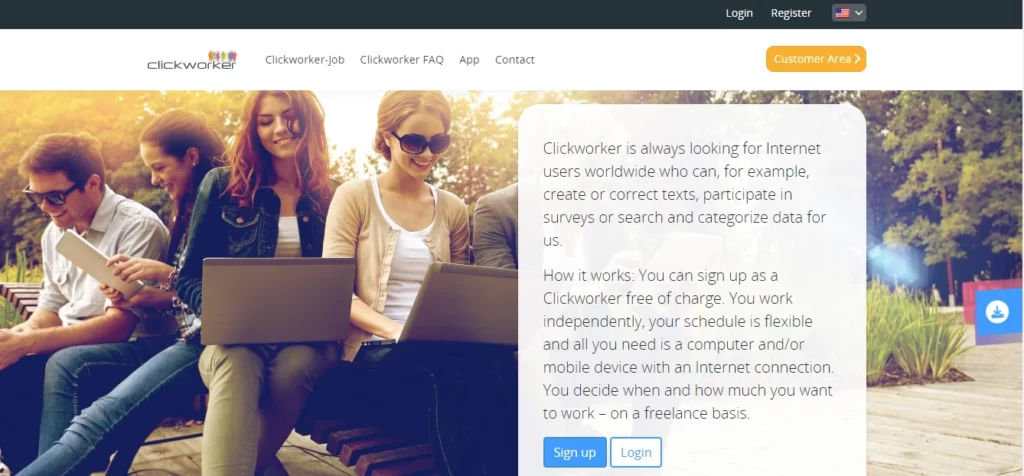 In addition, it has a flexibility feature and allows you to earn money from online data entry jobs in Pakistan. Moreover, you can browse for positions concurrent with your interests and skills.
If you are searching for online data entry jobs in Pakistan at home, you have a comprehensive platform, TranscribeMe for that. It offers high flexibility and high cash payouts for data entry workers.
It is also specially designed for individuals interested in transcription jobs. Moreover, you can choose the amount of work and the availability of hours according to your routine.

On top of that, it provides a platform for expert training before entering the data entry field. This website is always hiring new transcribers. For eligibility, you must register an account and complete the transcription test. If you get approved through email verification, you can earn money from online jobs in Pakistan without investment.
If you search for the top 10 online data entry jobs in Pakistan, you will find the Naukri portal on top. In order to search for suitable job openings, you can search for keywords in the search bar. Moreover, you can apply filters to give you specific results.
Read more about VPN if you cannot access this website.
Additionally, filtering out the descriptions and responsibilities is the best option for applying for jobs. To begin with, you must create an account through the 'sign up ' button and start searching for jobs based on your geographical location.
You can work as a transcriber or typist if you need more highly technical skills. Mega Typers is the best option for you to earn online money. If you are not a professional typer, you can also begin your career here with minimum speed.
Read More about Online Typing Jobs In Pakistan.

Moreover, this website has an easy payment debit system, and you can work flexibly in your busy schedule on Mega Typers. To begin with, you have to create an account and start typing out captchas to earn online money. The faster you work, the more you make.
Amazon is the safest platform to earn money from short-term tasks. If you are good at fulfilling short duties perfectly, Amazon Mturk is the best platform for you.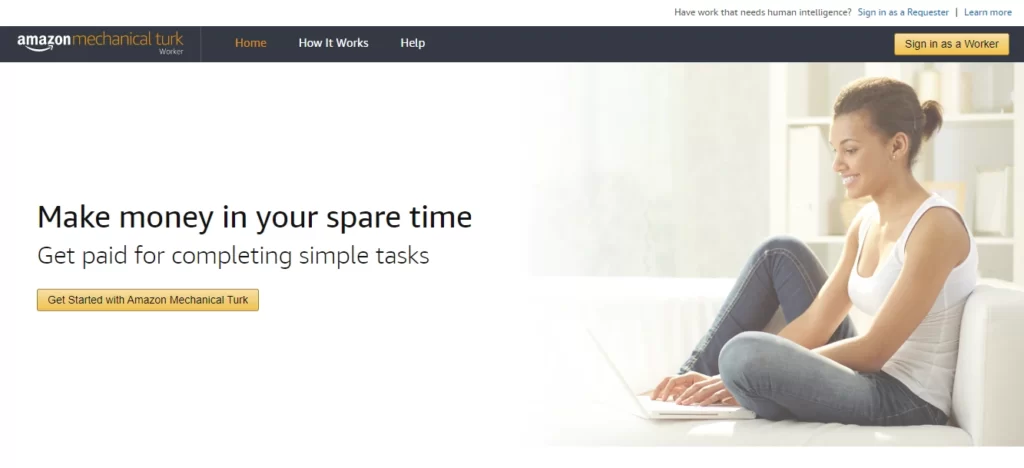 There are several tasks, including sorting, data verification, and captchas. You can earn between $1 -$10 or beyond per task. This depends upon your performance and speed of working.
Learn more about How To Earn Money From Amazon In Pakistan?
OLX
Most of us are only familiar with the selling format of OLX in Pakistan. However, you can apply for multiple data entry jobs in Pakistan online to earn money through OLX. The positions include all three structures: part-time, full time and freelancing.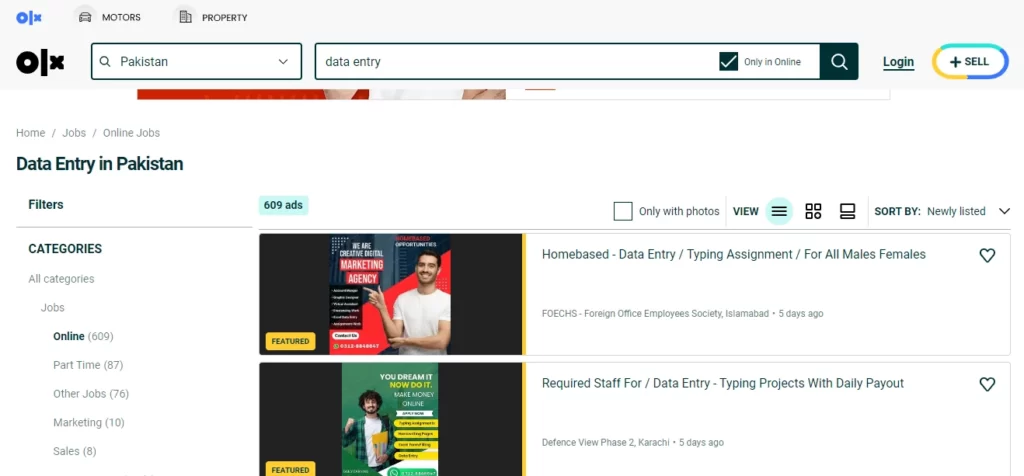 However, if you are looking for simple data entry and typing projects, OLX is a trusted platform. Moreover, you get paid after completing your tasks without any hurdles. The payment method varies from company to company.
Freelancer
Freelancer is the most popular platform for outsourced available jobs. Specially, you can work for online copy-paste jobs without investment with daily payment in Pakistan. Companies with specified charges continuously update these. You can find several job postings that will match your skills.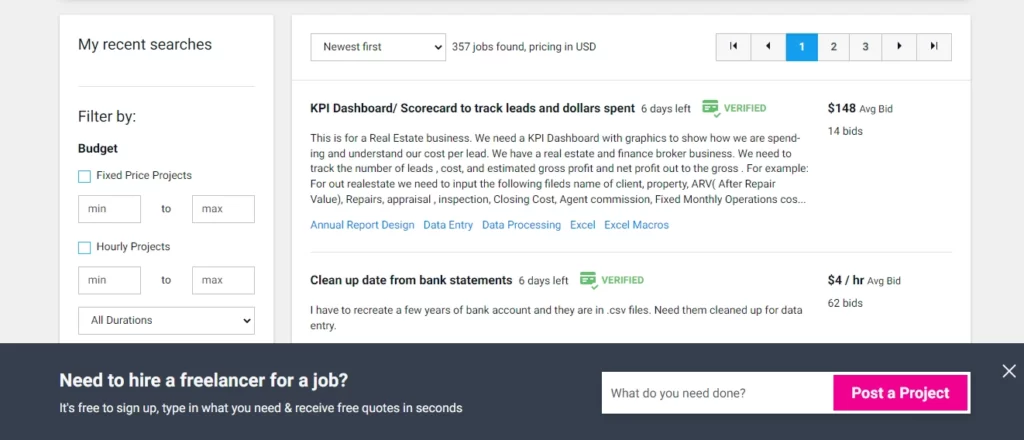 Additionally, if you are interested in data entry jobs from home in Pakistan, you can find hundreds of jobs lined up on this platform. Moreover, you have to bid on projects efficiently to land jobs. Some skills include data processing, data cleansing, PDF to word conversions, Excel work, Research work, etc.
Rozee.PK
Individuals in Pakistan trust Rozee. Pk for searching online jobs in Pakistan. If you search for online data entry jobs in Pakistan, you will find thousands of results in nanoseconds.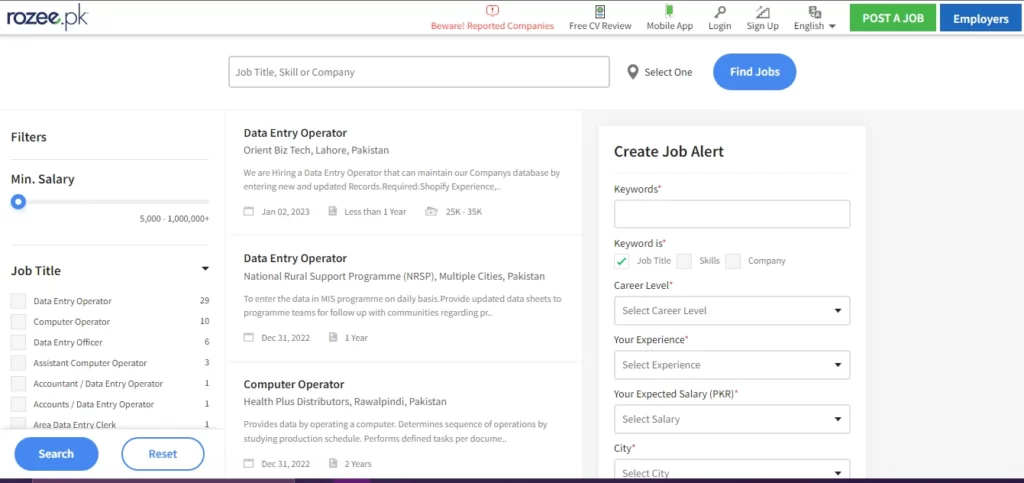 However, you have to create a persuasive CV to attract employers to your profile. You have to rank yourself on the rozee search engine to become a prominent job seeker to earn money.
Conclusion
To sum up, data entry is a simple yet challenging career in the present times. Other users trust the above-listed platforms for online data entry jobs in Pakistan. Especially if you are seeking the best work-from-home opportunities without any qualifications or skills, data entry is your new friend.
Moreover, every field has room for further improvements and learning. You can polish your skills with time to earn a good amount of online money. If you want to be a self-sufficient individual in Pakistan, you must add expertise to your skill set.
Are you all geared to earn money with little effort and basic skills? Share your reading experience with us in the comments section.
Visit Freelancers of Pakistan to learn more tricks for earning money!
Read More
Earn Money Through Affiliate Marketing In Pakistan
Frequently Asked Questions (FAQ)