Introduction
According to the world bank, the global pandemic gave rise to the remote work trend by 47% in the recent 36 months. Moreover, around 1.57 Billion people across the globe are a freelance workforce.
What Is Freelancing In Pakistan?
Freelancing is an excellent way to become an independent human financially. You can make a lot of money in dollars sitting in Pakistan. The highest earning of Pakistani freelancers is $1 Million above.
Moreover, it is a form of self-employment. You can use your talents and abilities to make money. Furthermore, you offer your services to potential clients through online freelance platforms. Students and office employees are now transforming their lives by learning freelance skills.
Facts About Freelancing
You might be thinking, how can a newbie earn this much? A remarkable fact is that making money from freelancing without experience is not difficult. However, it can be a healthy challenge.
Initially, defining your freelance niche and industry would be best. Secondly, you must be clear about which freelance platform will be your first playground. For example, Fiverr, Upwork and Guru.com are the most popular platforms. They provide you with numerous opportunities to make your career prosper.
Besides that, the freelance platforms create excellent ties between Clients and freelancers. The clients have pending projects; freelancers have the skills to complete the tasks.
In addition, once you complete the following steps, you must build a strong portfolio for your profile. This is the actual display of your skills and abilities for your potential clients.
By the end, you have to build a solid network to make your virtual career successful. This is a gist of what you need to list before starting your freelance career.
Freelancing is especially for those looking for flexible ways to supplement their income. In short, you can find your preferred projects matching your skillset from the vast opportunity pool and earn money today!
What Are The Benefits of Freelancing In Pakistan?
Freelancing is an excellent way to start making money, especially in Pakistan. It is a great opportunity for individuals to begin freelancing in Pakistan or anywhere else.
In addition to this, you have the chance to build an online portfolio. Freelance Websites allow you to do this easily.
A few benefits of freelancing are
Working from the comfort of your home
Flexible schedule
Selection of suitable projects and contracts
Managing the workload
Lower investments and higher income
You are your boss
Who Is A Freelancer?
A freelancer is a self-employed person who provides services to companies, individuals, or organizations to get paid. You can work as a freelance writer, web designer, developer, graphic designer, etc.
It is the fastest-growing career so far. As a Freelancer, you can earn a handsome amount of income. Moreover, you're your boss. You can work on projects that make the best match your skills.
Additionally, If you want to become a successful freelancer but need more experience, you still have plenty of available options. You can learn new skills through free and paid online courses.
Moreover, if you invest time into a particular skill, you can build a healthy freelance reputation. Ultimately if you want to become a successful freelancer, you need to work with dedication.
It can be a rewarding career path with unlimited potential if done right. It would be best if you worked hard with consistent efforts. Those who take the initiative to learn and gain experience in technical skills carry bags of success in the freelance world.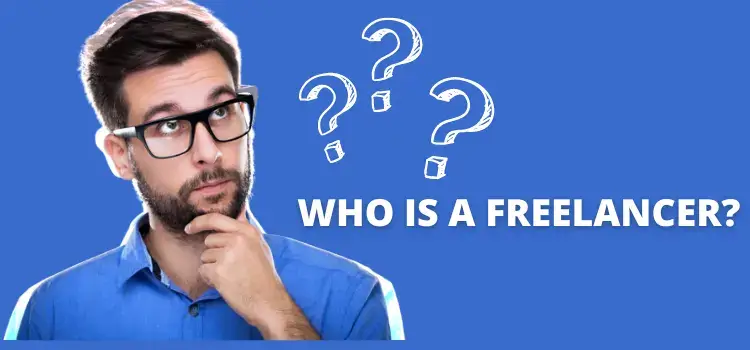 How To Become A Successful Freelancer In Pakistan?
Becoming a successful freelancer in Pakistan is easy. Initially, it is essential to understand the agenda of freelancing. Numerous benefits of Freelancing convince you to switch off your jobs.
It provides a more flexible schedule than traditional 9-5 jobs. However, success demands discipline and dedication from the freelancer. The next step is to join an online freelancing platform such as Upwork, Fiverr, or Freelancer. These sites allow potential customers to see your profile and portfolio, which you can use to market your services.
Besides that, you should learn about digital marketing to help promote yourself better. If you search for how to become a freelancer in Pakistan, you will find these tips everywhere. This will give you a competitive edge over other freelancers.
Lastly, networking with other professionals in the field will help build contacts. This opens up more opportunities for collaboration. Anyone in Pakistan can become a successful freelance professional with patience and hard work.
What Services Can I Offer As A Freelancer?
You can choose from a wide range of job opportunities as a freelancer. From graphic design to content writing, you can offer plenty of services as a freelancer in Pakistan.
For Example
Virtual Assistant
Web developer
Accountant
Content Creator
Writer
Translator
Social media specialist,
Graphic designer.
Several great freelancing websites like Fiverr and Upwork offer plenty of options for employers and freelancers. Many companies rely on these sites to find reliable part-time staff who can complete tasks quickly and efficiently.
Whether you're looking for full-time or part-time work, there's likely something that suits your skill set. All you need is the right attitude and aptitude to start making money as a freelancer today.
Why Is A Freelancing Career Meaningful Nowadays?
Freelancing is becoming increasingly popular in recent years. It brings comfort, ease, flexibility, and freedom to people's lives. Moreover, freelancing is perfect for people who want to work remotely to earn money according to their schedules.
Also, the freelancing does not cage you behind walls to commit to permanent tasks and employers. However, if you sign a contract, you must work on it until the deadline and move on to the next project. Moreover, you can work with multiple clients simultaneously to increase your income.
Conclusively, freelancing is meaningful because it gives you a sense of satisfaction and accomplishment when you deliver quality work to the clients. You receive good money and positive reviews at the end, which pays off your hard work.
Types of Freelancers Jobs
Freelancers are independent professionals who work virtually. They usually offer their services on a per-project or contract basis. Freelancing is popular because of the flexibility and independence that comes with it.
Several freelance jobs are available, ranging from graphic design to software engineering and typing to data entry. Freelance opportunities in Pakistan can be found both online and offline.
Contrarily most popular freelance jobs tend to be virtual. Many freelancers have built successful careers through digital platforms such as Upwork, Fiverr, and Freelancer. You can showcase your skills and find new clients to develop your career.
To sum up, with an ever-growing need for digital services, Pakistani freelancers have tremendous potential to prosper in their careers. Moreover, you can build rewarding careers for yourself, working from the comfort of your couch.
How To Start Freelancing In Pakistan?-Complete Road Map
With the dropping economy of Pakistan, unemployment is increasing daily. In this case, you should hop into the freelance industry for a secure future today. Moreover, you can start freelancing in Pakistan to earn money with ease. It is simple but challenging to become a successful freelancer.
You can find several online freelancing websites that allow you to work from home. Moreover, if you have the in-demand skills, you can earn dollars. For example, the highly paid skills are SEO, graphic designing, writing, web design and development, video editing, etc.
Additionally, you can receive payments quickly after completing your tasks. Before beginning your freelance career, it is crucial to make sure that you understand the local rules and regulations.
Besides that, you must create an attractive portfolio showcasing your skillset and previous work. This demonstrates your expertise in the field. Furthermore, it would help if you researched different freelancing websites available in Pakistan.
Moreover, read reviews and identify the websites' charges, fees, and commission structures. After that, you shall decide accordingly which platform suits your requirements.
Additionally, as you have to work with international clients, your online presence shall be positive. Networking is also a great way to build contacts and get more clients for yourself. With dedication and hard work, anyone willing to start freelancing in Pakistan can become a successful freelancer.
Can A Beginner Do Freelancing In Pakistan?
If you are a student without experience in the freelance market, you need not worry! You need to define your niche and start researching every bit of it. Even as a beginner, you can kickstart your career with a heavily paid task.
The Freelance websites require a portfolio that attracts more clients. You can build a portfolio by working on projects for close friends or family for free. Once you do this, you can use social media websites to start your career.
However, if you feel uncomfortable doing this, start by picking up random projects from online platforms. Once you are confident enough, you can jump onto more significant projects and contracts.
Remember, to become a successful freelancer; you need to be patient. Never rush onto projects for money. You can end up getting yourself backlisted. It would help if you focused on how qualitatively you can drive a project.
If you have the potential to work as a freelancer, you need to be dedicated and hard-working. Beginners can look for freelance jobs in various categories, such as writing and translation, web design, or software development and marketing.
Freelancers can also join forums and groups with other experienced professionals. This is the best way to start in the freelance world.
How Much Does A Beginner Freelancer Earn In Pakistan?
As a beginner freelancer in Pakistan, you have the potential to earn quite a bit of money. If you start by working locally, you can make RS. 1000 per hour. However, an average salary of a freelancer is beyond Rs 38,000. This depends upon your experience and working pace as well.
Freelance platforms like Fiverr, and Upwork, allow you to make money in dollars. With excellent communication and organizational skills, any beginner can succeed in working on projects. Freelancing websites make your experience grow. Moreover, an average salary of a fiverr freelancer is $2100 monthly.
However, it is essential to remember that it will take hard work and patience before seeing any significant returns. Especially if you are a beginner, the best advice would be to keep trying different freelancing websites.
Once you find the right one for you– there are plenty of opportunities! Try to gain more experience and build a portfolio before starting your journey. It becomes easier for you to increase your earnings as a freelance professional in Pakistan.
Highest Freelance Earning Skills In Pakistan?
As a freelancer in Pakistan, you can make good money if you are willing to put in the hard work and effort. The currency difference between Pakistani rupees and U.S. dollars can make you rich in months.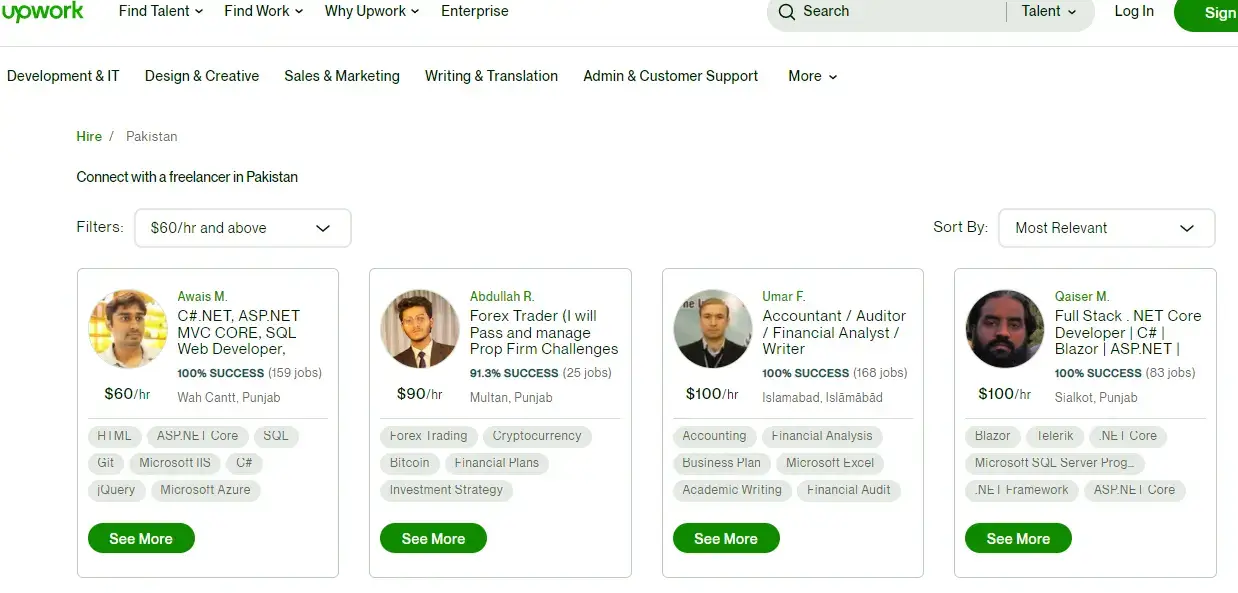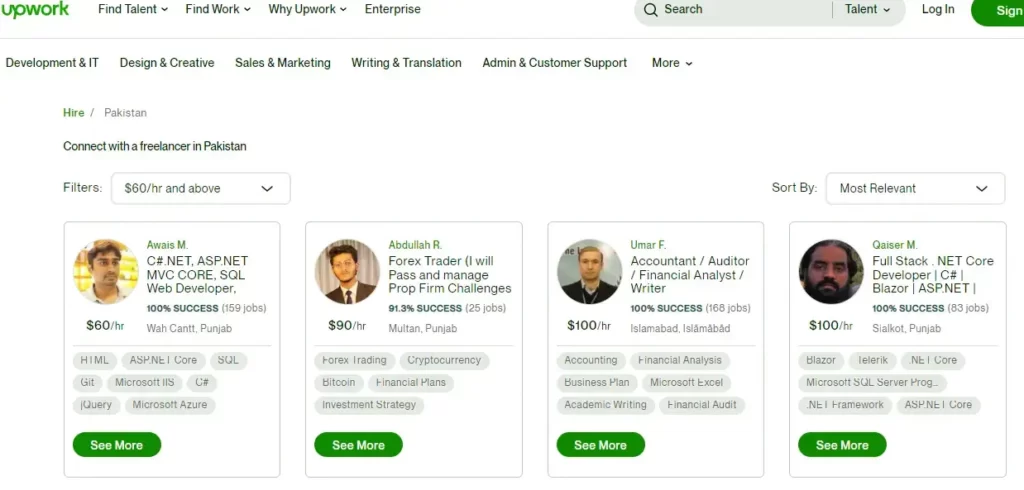 Pakistani freelancers can find many paid skills. Keeping in mind the students who work flexible hours, Upwork is the right platform for that. According to the Upwork community following are the skills and their hourly rates:
Apart from these rates, you earn according to your level of expertise and experience in freelancing. The freelance project rates vary according to the client's budget and the nature of the work.
Typically a freelancer can earn PKR. 40,000 monthly with complete dedication. Contrarily according to the Deel global hiring report, an average Pakistani freelancer earned nearly $6 million to date.
Why Do You Need A Freelance Career?
Freelancing is an excellent option for anyone looking for an alternative to the traditional career path. It allows flexibility, autonomy, and the ability to work from anywhere. With a freelance career, you can be your boss, define your own rules and hours, and choose where you want to take your job.
Moreover, Pakistan has become one of the most attractive countries in the world regarding freelancing. People are turning towards freelance careers in Pakistan. Freelancers in Pakistan can enjoy a broader range of services and jobs available on freelancing websites.
Additionally, there are a variety of platforms that offer different types of services. For example, content writing, software development, graphic design, web development, etc. These websites also provide opportunities to easily connect with clients looking for quality talents and skills globally.
A freelance career offers opportunities for you to grow professionally. It also allows you to set your schedule and define success on your terms.
Besides that, freelancing is increasingly becoming a popular option. You can earn extra money or pick freelancing as your full-time career. Additionally, you can set your hours, rules, and strategies as a freelancer. Besides that, you also have the freedom to choose your projects.
A freelance career allows you to showcase your skills and talents while building up a strong portfolio of work. Moreover, things that interest you help you increase your income. Isn't it best to get paid for doing something you specialize in?
Freelancing as a student also helps you build more vital soft and hard skills. However, if you ever want to switch your career to an office job, it will help you. It also allows you to work from anywhere with an internet connection.
In addition to this, it enables you to become a multitasker as well. All these advantages make freelancing an attractive option for those who feel stuck in their current jobs or salary bracket. Contrarily, freelancing is the best option for people who don't have access to higher-paying positions due to certain restrictions—for instance, full-time commitments or qualification barriers.
Freelancing in Pakistan represents an excellent opportunity for young professionals. With the right attitude and guidance from experienced freelancers, anyone can quickly take advantage of what this surging sector offers. If you seek a flexible high earning career path, jump into the freelance playground.
Why Is A Freelancing Career Important Nowadays?
With the digital revolution, freelance has become an essential and much-desired career path in Pakistan. It offers opportunities to learn valuable skills and builds you a work portfolio for free.
Furthermore, freelancing helps you acquire top-rated skills with hands-on experience online. This makes it an attractive and viable option. It is for those who want to pursue freelancing as their career. Through freelancing, you can also control the types of clients, the time to work, and your charges according to your experience level.
To pursue a freelance career in Pakistan, you must dedicate your entire time to learning. You need to be aware of all digital marketing and freelancing aspects. As the freelance industry is getting more competitive every day, more talent is available now.
Besides, businesses have access to highly skilled professionals who can provide quality services at competitive rates. However, you need to find a top-rated freelance career to build your reputation from the beginning of your journey!
Where To Learn Freelancing?
Freelancing has become a popular way to make money online in Pakistan, as it offers the freedom and flexibility to set your hours and work on your terms.
If you're interested in learning how to freelance, several resources are available to help.You can learn freelancing through paid/free courses online. The official websites for learning skills free of cost include
Apart from this, freelance websites like fiverr, Upwork, Guru.com, etc., provide blogs and video tutorials for you to learn skills. However, you can also find paid courses online that will teach you how to become a professional freelancer.
If you want to save money, plenty of free advice is available for beginner Pakistani freelancers online. You can read blogs and take part in discussions on forums.
Moreover, you can follow influencers on Twitter to gain knowledge about freelancing without spending a penny. Furthermore, your key to success is practice. Hands-on experience and a strong portfolio help you build your reputation as a reliable Pakistani freelancer.
Freelancing Courses Of Pakistan By The Government
Pakistan's government has started offering freelancers freelance courses to help them build successful freelance careers. You can pick up any course, for example, graphic designing, digital marketing, and content writing.
These courses are intended to provide an opportunity for those interested in a freelance career. It increases the knowledge of freelancers. Moreover, it acts as the primary tool to make freelancing a success.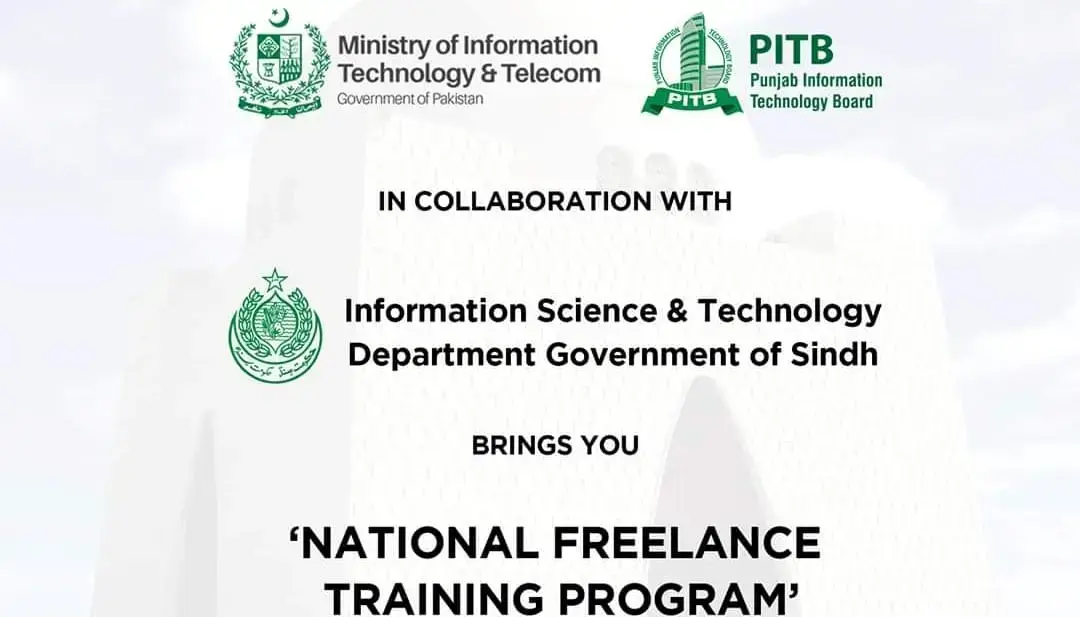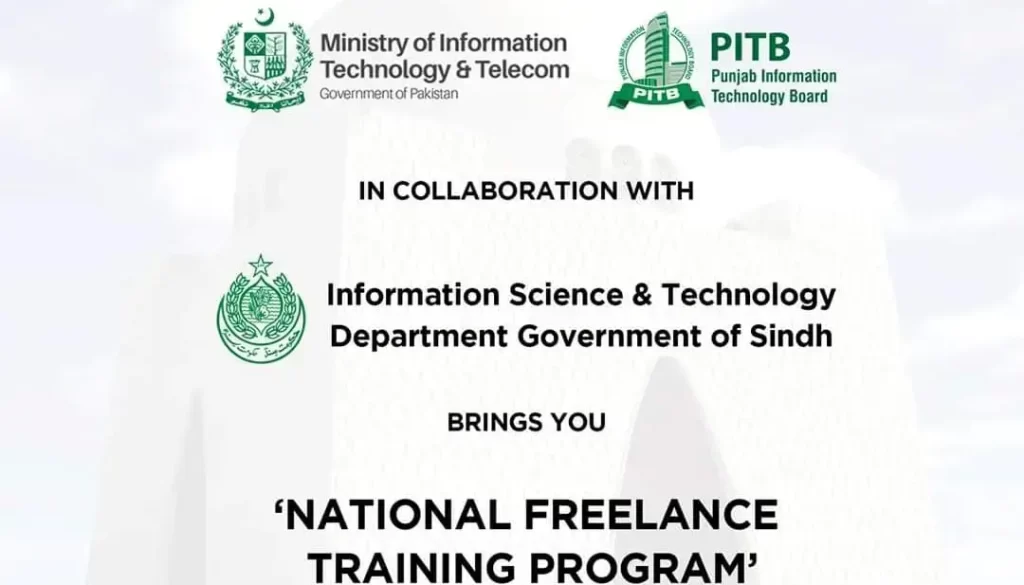 The national freelance program aims to develop people's skills in these fields to become successful entrepreneurs. It also helps freelancers understand how to market themselves effectively online. It also teaches them how to search for clients who need their services.
Doing so will also create more job opportunities for freelancers in Pakistan. It will equip them with the necessary skills to succeed in their profession.
How To Get Jobs On Freelancing Websites?
Getting jobs on freelancing websites can be an advantageous way of making money from the comfort of your home. Popular freelancing websites like Upwork, Fiverr, and PeoplePerHour are ideal for Pakistanis who want to start making money online.
It would help if you created an attractive profile describing your skills and specialties to get jobs on these platforms.
Additionally, it would be best if you had a portfolio showing your past projects and any relevant certifications as proof.
Besides, once you register on a freelancing platform, you should glance at all the options and categories. After finding a suitable niche for your skillset, you should start applying and bidding on job openings.
The best way to use it is by sending customized cover letters demonstrating why you would be the right fit for them. Keeping this in mind, you will be able to get the most out of freelancing websites as a Pakistani professional.
Is Freelancing Legal In Pakistan?
Undoubtedly, freelancing is legal in Pakistan. Freelance work has been thriving in the country for quite some time now. The government has increased the opportunities for youngsters to make a living by working online. Moreover, it provides tax relief and other benefits to freelancers and their employers.
Freelancers in Pakistan can use various platforms to promote their services, such as Upwork, Fiverr, Hubstaff Talent, etc. Governmental initiatives like the Punjab ICT Policy 2017 provide incentives to freelance workers and companies who hire them.
To earn money, freelancers must work according to the Bylaws. These may vary from province to province, but freelancing is generally legal and allowed in Pakistan.
Conclusively, It is an attractive option for those looking to make a living from digital services. If you are technically strong-minded, you can cash your abilities through freelancing. As long as you do things by the law, freelancing remains perfectly legal in Pakistan.
Where Does Pakistan Stand In The Freelancer Market?
Pakistan stands as the 4th largest freelance country in the world. According to the surveys, over three million people are now freelancing with zero experience in Pakistan. An estimated $0.5 Billion in economic construction has been recorded in Pakistan.
The freelancer market in Pakistan is highly active and offers a variety of opportunities. Furthermore, this number continuously grows as more people recognize the advantages. People, especially women, love to be their boss and feel comfortable working from home.
If you are willing to put in the effort, you can be successful. It is improving the economy, especially the IT industry. Moreover, It has made great strides. The government provides several incentives to start or expand a business.
In summary, access to modern technology makes freelancing an attractive destination for aspiring freelancers. It has made life more accessible than ever before. You can make your living without relying on someone else's job offer. With such potential, there's no doubt that Pakistan will continue to be a top contender in the global freelancer market.
Best Skills For Freelancing In Pakistan 2023?
Freelancing is an attractive option for many people in Pakistan. Whether you are a professional employee or want to supplement your income, there are numerous freelance opportunities.
Freelancing is your friend if you want to earn extra income, gain experience, and work flexibly. The best suitable freelance skill for you in Pakistan depends on your interests and professional goals. A few popular freelance skills include
Content writing
Graphic Designing
SEO
Web design/development
App development
WordPress
Shopify
Videography
Cyber security.
With the right attitude and commitment, becoming a successful freelancer in Pakistan isn't complex. Whatever skill you choose, it's essential to market yourself well. It would be best to upgrade your skillset so employers can recognize your value constantly.
How to Start Freelance Writing In Pakistan?
Freelancing has become increasingly popular in Pakistan over the last few years. Many Pakistani freelancers have successfully managed to build a full-time career from home. They have taken advantage of numerous freelance opportunities available.
Starting freelancing in Pakistan is easy; all you need to do is create an attractive website profile. Beginning your career with content writing is an excellent idea.
A person who knows how to write can extend their skills in any way. To earn more, you should learn SEO-optimized writing. It is among the highest-paying skills.
Initially, blog writing was the most commonly used freelance writing service. The average blog writer earns $300 for 1000 words. A few writing niches include:
Blog writing
Creative writing
Guest posting
Ghostwriting
E-book writing
Research writing
Proofreading and editing
It's also important to remember that website development and other IT-related skills are always in high demand. But to gather clients, you need to have communication skills. This is easier for people who know the art of writing. So if you have these skills, include them in your profile to get noticed quickly.
Moreover, you can also join some online Pakistani freelancer forums to learn more about how to become a successful freelancer. The key is perseverance.No matter what type of work you are looking for, don't give up until you make a name for yourself. There is no corner of the earth where content is not present. So start learning and enjoy writing!
Who Is The Biggest Freelancer In Pakistan?
Pakistan is a hub for some of the biggest freelancers in the world. The growing demand for freelancing has brought forward hidden talents from Pakistan. Freelancing has also become an attractive career option, as it offers flexibility and control over your working hours.
One of the most successful freelancers in Pakistan is Hisham Sarwar. He has been a passionate advocate for teaching me how to start freelancing. He has become a great mentor for aspiring freelancers.
Moreover, he teaches people how to develop their style of work. Furthermore, he shares his knowledge and experience on how to become a successful freelancer. With his help, countless Pakistanis have sharpened their skills and built profitable businesses.
Another inspiration is Azad Chaiwala, who is now a millionaire businessman. He educated the youth positively. Moreover, his experiences are the inspiration for others to start thinking big. Watch his video for more information:
In addition, renowned Pakistani companies are hiring talented individuals.
For instance, Wild Stylers and EXcellians.This helps freelancers monetize their skills.
Successful freelancers have grown over time. Beginner freelancers get the confidence to learn or master the necessary freelancing skills through them. You can coincide with the market and industry needs accordingly.
Anyone can become a successful freelancer in Pakistan with hard work, dedication, and commitment. And without leaving the comfort of their homes! All these factors demonstrate that Pakistan truly is home to some of the most prominent freelance professionals in the world today.
List Of Top 5 Freelance Websites In Pakistan
Freelancing is one of the best ways to make money online. In Pakistan, several websites allow you to offer freelance services. All these websites provide an excellent platform for online professional money-making. Some of them are:
Fiverr
Upwork
Guru.com
Peopleperhour
Freelancer.com
To sum up, Fiverr is one of the most popular websites among freelancers as it caters to job seekers with low-level skills. Upwork is more suited to those who have more expertise and experience. Peopleperhour provides hourly paid freelance jobs. On the other hand, Guru.com specializes in longer-term projects.
The benefit of these particular freelance websites is that they also offer guidance and advice. It helps you with how to start freelancing in Pakistan with no experience. Through these websites, you can create your digital journey online. Moreover, you can establish yourself as a trusted freelance professional.
Which Is The Best Freelancing Website In Pakistan?
Every website offers different services and features. However, all of them provide the same opportunity to become successful freelancers. Out of all these, the best freelancing website in Pakistan is Upwork.
This website has made it easy for people to find freelance jobs. It is the best freelance platform for hiring experienced professionals from different fields.
Upwork is considered the top choice for some reasons. The feature of the extended network makes it easier for employers to find the right person for their job—for example, its user-friendly interface, reliable payment options, and secure platform.
Additionally, this website provides all the necessary tools needed for successful freelancing. For instance, time-tracking software, client management options, project collaboration tools, etc. All these features make Upwork the preferred focal point. It helps you find freelance jobs and make money online profitably in Pakistan.
Freelancing Boom In Pakistan
The freelance industry in Pakistan has been booming lately. This is due to the availability of numerous job opportunities for Pakistani freelancers. The influx of freelancing activities is aiding the Pakistani economy.
This boom has opened up many job opportunities for freelancers in Pakistan. With access to online earning platforms, freelancers have plenty of options. Furthermore, this helps in creating jobs and revenue for the country.
Many skilled professionals and entrepreneurs are getting involved in the freelance revolution. They are making a mark with their creative mindsets. Additionally, people are taking full advantage of it.
Pakistan is now seen as an attractive destination for businesses. Moreover, Pakistan has been listed among the trusted countries for outsourcing various tasks, further driving the surge in freelance jobs.
How To Receive Payments In Pakistan
Receiving payments in Pakistan is relatively easy, especially for Pakistani freelancers. There are several services and websites available that Pakistani freelancers can use to get paid for their services.
Popular services include PayPal, Payoneer, Skrill (Moneybookers), 2Checkout, JazzCash, EasyPaisa, and Wiretransfer. All these services have multiple payment options tailored specifically for the Pakistani market.
These apps have made receiving online payments much more accessible. You can also set up your website with a secure payment gateway. You can start receiving customer payments through credit/debit cards or other approved methods. For detailed payment methods. Read More Freelancer Payment Method ,Paypal Alternative Solution
Important Keys To Success On Freelancing Platforms
Freelancing is the perfect way to make money without the commitment of a full-time job. The key to success on freelancing platforms is to set yourself apart from all the other freelancers.
Register on authentic websites
Update your skills
Research well before bidding
Bid for unique projects
Demonstrate your value
Highlight your skill sets
Prove how you will deliver results
Developed a detailed proposal for each bid
Outline how your services will benefit the client.
Build positive relationships with your clients
Deliver quality work
Ask for feedback
Keep a follow-up
Act according to community guidelines
Choose proper payment methods
Follow the best guidelines to learn freelancing step by step. Do not rush into the virtual world. Learn and grow slowly and gradually to enjoy the perks of freelancing!
Conclusion
To sum up, freelancing is an emerging career in this digital world. People are earning millions of dollars across the globe through freelancing. However, you can rank as the top freelancer by knowing the right strategies and tactics.
Remember, before beginning the journey; you should be aware of every tiny detail. To become a successful freelancer, you should be very clear about your niche and expertise. Moreover, learning and improvement are ongoing processes.
To keep shining in the industry, keep yourself up to date. In short, hard work, consistency, and self-motivation are necessary for becoming a successful millionaire freelancer.
What are your goals and dreams after you start earning money from freelancing? Leave a word in the comments.
Frequently Asked Questions (FAQ)