Introduction
Have you landed here after signing up for Upwork as a freelancer? Did you hear that? The Upwork freelancer platform collected a revenue of $503 Million in 2021. Do you know what you did best without doing anything? Before beginning your journey, you landed right here to understand the Upwork review system. To begin with, you might be illusion that Upwork has the same review system as other freelance platforms.
However, this is true to some extent. The reason is it is just like any other freelance platform but has uniqueness too. However, Upwork claims to provide a tool for you to perform at your best. The Upwork JSS score tool! You might not pay utter attention here but mind it, Upwork success is different! Without wasting a second, let's quickly dig into the details of the Upwork Job success score.
What's the Upwork Job Success Score?
You may have heard this a thousand times "The foundation of successful freelancing lies in feedback." This is an interesting fact. Just like we recommend certain brands to each other, the customer satisfaction factor lies here. Similarly, the Upwork freelancer's success is also based on client feedback. The JSS is considered a 'meta-metric.' Your JSS collects your entire Upwork history and measures your rating on several pointers.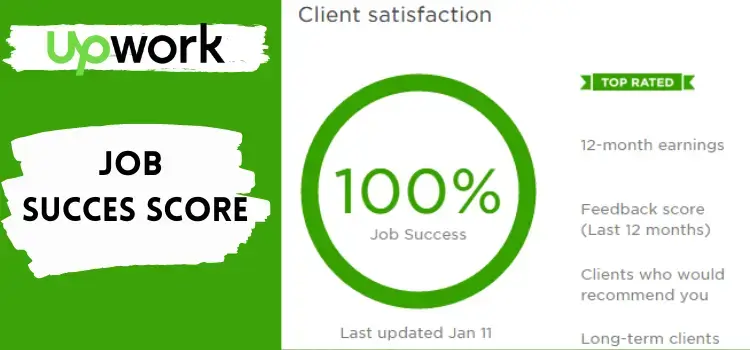 A higher score means higher customer satisfaction. This helps you stand out among the crowd. The top-rated Upwork agencies have a score typically between 90%-100%.
Pro tip: Less time hunting clients and more time serving them give you a higher JSS score.
Undoubtedly, this shakes us to a higher level of competition. However, every agency's Job success score is a bundle outcome for several factors.
For Example
Direct client feedback(private and public)

The period of a client-agency relationship

Clients reaching and rehiring

Client expectations

Client satisfaction

Projects and contracts(results)
Mind it, Upwork uses the Upwork JSS score metric within its algorithm. Based upon this, it decides whether you can be among the "top-rated" agencies or not. Whether new to the Upwork ground or not, you are here to improve your Upwork job success score. Right? Let's begin.
About Upwork JSS Algorithm
Upwork pays lesser heed to minor score differences like 2% (91% and 93%). However, agencies and individual freelancers who have a JSS above 90% are the kings of customer satisfaction. Moreover, if your score is in the 80% line, you might be putting effort into your work, but improvements are still needed.
Contrastively, JSS below 79% indicates that you were unable to satisfy your customer's needs and expectations. In a nutshell, the better you ace the Upwork JSS algorithm, the more success you gain. Moreover, satisfied customers are the key to your successful freelance career on Upwork. Serve qualitatively for quantitative income!
Important JSS Factors
Upwork is a very friendly and cooperative platform if you use it right. There are some essential factors that it reveals for seller satisfaction. However, you must try your best to achieve the score and become top-rated. Some keys to remember are
High-paid jobs impact your score more.

Uncooperative clients do not get counted in your JSS.

If a client is flagged or suspended, their feedback is not counted.

You can send a removal request for a single project feedback monthly.

My stats

page shows your JSS.

A good reputation gives your rewards.
How To Get An Upwork Job Success Score?
There are several ways to obtain a higher Upwork Job Success score. However, there are certain criteria to become eligible for the JSS. The two main criteria are
Work on multiple projects with different clients.

Completion of various contracts of different natures within 24 months.
In addition to this, here are some valuable tips to get a higher JSS score:
Stay Proactive
Upwork is an online earning platform, so your online presence matters the most. The Upwork algorithm counts every second of your activity level. Moreover, it would be best if you were regular and responsive on your freelancer account. Contrarily, if you respond late to clients and have little active time, it will directly impact your Upwork job success score.
What Is Upwork Responsiveness Score?
As mentioned above, Upwork picks several factors for the JSS calculation. Besides that, Communication stats are considered to calculate your response and communication with the clients.
Responsiveness
You need to respond quickly to your clients. Your response time is also visible on your profile. Upwork adds this to the calculator as well.
Invite Response Rate
Freelancers who are available for new work invitations become successful. You shall accept/reject invites typically within a day.
Availability
Your availability hours should be completely fulfilled. If you receive invites during your unavailable hours, it is not counted.
Direct Positive Feedback
As you know, your profile is your display of skills. If clients consistently drop positive feedback for you, congratulations, you are the winner.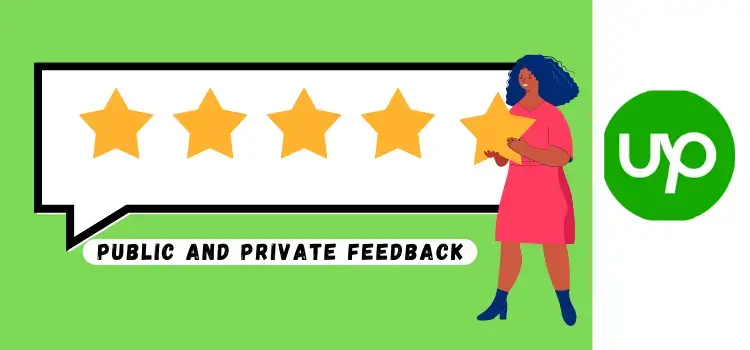 Moreover, if the clients reassign you the projects and come back frequently, you did it! However, Upwork is very strict about customer satisfaction, and if you become successful in this, your score will be higher.
Deliver Projects And Tasks
It is evident that completing tasks, projects, and contracts within the given time is essential. Your customers expect the best from you. However, when you meet their expectations, they turn into a satisfied customer.
Ultimately this results in increasing your job success score beyond 90 %. Moreover, if you keep putting in the effort, your score will gradually reach 100%. Consequently, you will be among the top-rated Upwork freelancers/agency. Remember, thorough research, understanding the full features, and all the ranking factors are plus points for your Upwork success.
How To Calculate Upwork Job Success Score?
Upwork calculates your overall success as a freelancer as your JSS. As the Upwork JSS is unique, so is its calculator method. However, only some platforms tell every detail about their review system. Besides that, JSS includes significant factors for its calculation. This makes Upwork stand out from the standard review systems. The following elements are incorporated.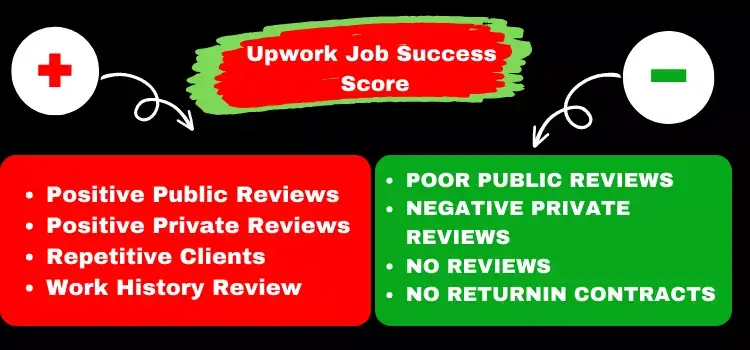 Upwork is a fair play platform. Moreover, it tries to restrict fake and artificial bots from the platform. According to Upwork support, they calculate JSS with the following formula.
What Is The Upwork JSS Update Time?
According to Upwork support, Upwork JSS is updated every two weeks. This allows you to improve your history frequently. The Upwork calculator takes snapshots of your JSS at four different points.
JSS average of past 24 months

JSS average of past 12 months

JSS average of past 6 months

Trending JSS(average of past 6 months+ average of past 3 months/half)
This might not look easy to maintain. But your consistent work history over a few months makes significant gains in your Upwork Job Success score.
How To Improve My Job Success Score On Upwork?
Once your score drops below 90%, you panic about your JSS and freelancer reputation. At this point, you need to calm down and wind up solutions for this downfall. Some of them are
Select Doable Contracts
Select the contracts that you can fulfill at your best. Only pick up contracts that you can finish in time. Lesser arrangements are better than negative reviews.
Do Not Work With Unreliable Clients
If you have had a bad experience with some client, do not work again for them. No matter how many offers you get. Uncooperative clients are no less than nightmares.
Ask For Feedback After Project Delivery
Public and private feedback is essential for your profile reputation. In addition, they also play a vital role in your self-improvement and appreciation.
Hunt And Serve More And More Clients
Keep your consistent efforts of picking projects and satisfying your customers. The more people you serve, the more reliable you become for Upwork JSS.
Consistent Profile
It would be best if you were sensible enough to make logical decisions for your profile. Avoid temptations for money and focus on consistency.
Conclusion
In conclusion, Upwork is a freelance platform that is different from the typical ones. It is trying to break the traditional approaches of review systems. Upwork hunts the match of the best talents working together for success. Moreover, if you have the skills and capabilities, you can easily score a 100% in your Upwork Job Success score. However, 90% and above is an excellent score.
However, Your aim shall be 100% so that you can dominate the other freelancers. Undoubtedly, this makes you a top-rated seller. In a nutshell, the tactics and the measures are to be scanned in your mind for a better reputation. Ultimately better work skills and reputation mean a higher JSS. Remember, practice makes a human perfect! So what are your excuses?
Run down your profile and omit the flaws now! If you have any queries, drop them in the comment section below.
Read More About:
Is Upwork A Legitimate Freelancing Site? An Unbiased Review
Is it Right for You to Move From a Freelancer to an Upwork Agency?
What Is The Right Time To Start An Upwork Agency? 5 Things To Consider First
Frequently Asked Questions (FAQ)

What is the difference between public and private feedback?
Public feedback is given at the end of a contract. The feedback is publicly visible on the freelancer's profile. It includes ratings, quality of work, delivery time, cooperation, and added comments. On the other hand, private feedback is given as the reason for the contract's end. It includes a score of recommendation on a 0-10 scale.

How do you get Upwork badges?
Upwork badges highlight the talents and skills of freelancers. It is best if you deliver projects timely, maintain long-term client relationships, make a 100% profile, update availability, bid and submit regular proposals, and work according to the Upwork terms of service. All of these factors help you earn different badges.

What is Upwork rising talent?
If you follow all the criteria for Upwork badge eligibility in your early days, you get a rising talent badge. If you work dedicatedly on and off Upwork, you earn this badge. Moreover, this badge gives you a solid kickstart for your Upwork career.

How can I increase my Upwork score?
The essential requirement to increase your JSS is to make an accurate and descriptive profile. Portray your abilities, skills, availability, and relevant information for the client to pick you as their work person. In the end, delivering successful projects will lead to satisfied customers, and your JSS increases.

Why did my JSS change?
Your JSS keeps fluctuating if your performance rates drop. Your JSS changes if you receive negative feedback from clients, very positive client feedback, older contract time exceeds, or a high-value job pushes the lower-value jobs behind.